Calculate attrition the moment a reel is counted and forward inventory corrections to your ERP system in real time.
Calculating attrition in real time
Reel aMounts can now calculate attrition for a build as soon as each reel used is counted after the build.
The new version can read in a list of proposed builds. This is used together with imported BOMs (an existing feature) to calculate the expected usage for a build.
Attrition is shown on screen as soon as usage is detected over and above the expected usage. Attrition is shown as both a number of components and as a percentage.
The system allows for composite builds, where a kit is issued to build multiple products, and for the use of multiple reels of the same part in a kit.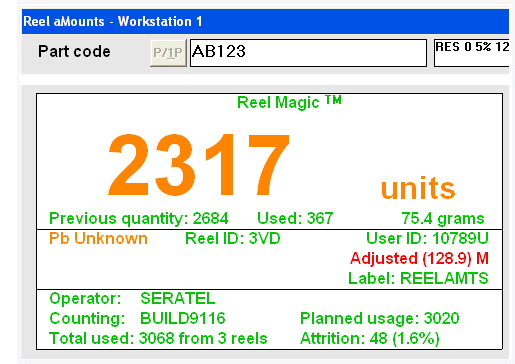 Posting attrition in real time
Reel aMounts can now pass attrition figures to a companion program as each reel is labelled after counting. This allows an ERP system to be updated immediately for usage over the front/back flush amount straight after a build.
Posting attrition in batch mode
All the attrition figures for a build are now available in Reel aMounts Reporting Centre. This allows a spreadsheet of part numbers and required inventory adjustments to be produced for a build and posted in batch mode at any time after the build.
Plus – yet more wish list items
When we first label a reel with Reel aMounts, we capture our own unique reel ID. Can I see that on screen ?
You can now. You only need to scan your reel ID the first time that the reel is labelled, but that ID will be shown on screen and saved in the count record whenever the reel is counted. It can also be included in the data passed to your ERP system.
We are using Reel aMounts to count some extremely small loose components, but the system's check for scales drifting from zero limits how small an item can be.
Reel aMounts' check for scales drift can now be customised. This makes it possible to weigh a batch of parts totalling as little as 0.2g.
To learn more about Reel aMounts – click here
e-mail: info@seratel.ie phone: +353 98 36244

© Copyright 2017-2021 Seratel Ltd.